This past weekend was the Phillies annual "Alumni Weekend", this year featuring the induction of two new Wall of Fame members, pitcher Ron Reed and outfielder Bake McBride, both of whom were on the 1980 World Series Championship team. For that reason, the spotlight was on that team and a book that was featured in the Stadium gift shop was a new release by William Kashatus titled Lefty & Tim: How Steve Carlton and Tim McCarver Became Baseball's Best Battery.
For those of you who were around at the time, there are several things that jumped out at me while reading this superb work:
Carlton's Annus Mirabilis was 1972, in which he finished with a record of 27-10 and an ERA of 1.97, particularly remarkable for a team that finished with a record of 59-97, dead last at 37.5 games out of first place. He was the only starter who finished with a winning record. But what is even more eye catching is that he began the season going 5-6 in his first 11 decisions, with an ERA of 5.89! That means he went on an incredible run of 22-4 from the beginning of July until the end of the season, and a stat I don't have handy but most have been a miniscule ERA over that stretch to bring it down from 5.89 to finish at 1.97. Lord knows what his WHIP was during that stretch, but it's clear that his 1972 season will never be duplicated, and certainly not for a team that was that bad.
After Carlton's 1972 Annus Mirabilis, he put together a mediocre record of 58-58 over the next three seasons of 1973-1975. This despite the team improving each of those years, from 71-91 in 1973 to 80-82 in 1974 and to 86-76 in 1975. The relative improvement in the team while Carlton struggled to come anywhere near his dominance in 1972 resulted in considerable talk that he may not have been as good as we thought, and second guessing about trading our previous ace, Rick Wise to the St. Louis Cardinals for Carlton in return. Carlton's famous withdrawal from talking to the media was fueled in large measure by his feud with Bill Conlin, the Howard Eskin of his day. It was Conlin who was brutal to him over that three years stretch, suggesting that Carlton's penchant for late night antics and drinking contributed to his descent into mediocrity.
Carlton found it difficult to get on the same page with Bob Boone, hence the Phils bringing back McCarver to once again serve as his personal catcher. Yet ironically it was Bob Boone who introduced Carlton to the pioneering strength and conditioning coach, Gus Hoefling. Kashatus writes that Hoefling was a martial arts teacher in Southern California who relocated to the East Coast in 1973 to work for the Eagles in Philadelphia. Boone began working with him in 1975 and was impressed. When the Eagles fired him in 1976, he came to work for the Phils and the trio of Boone, Carlton and Hoefling began working together. His new-found strength coupled with the art of deception made his slider all the more devastating, and when McCarver finally turned him over to Boone his 1980 they continued to rely on the out pitch that McCarver and Carlton developed. That year he garnered the third of what would be his four Cy Young Awards.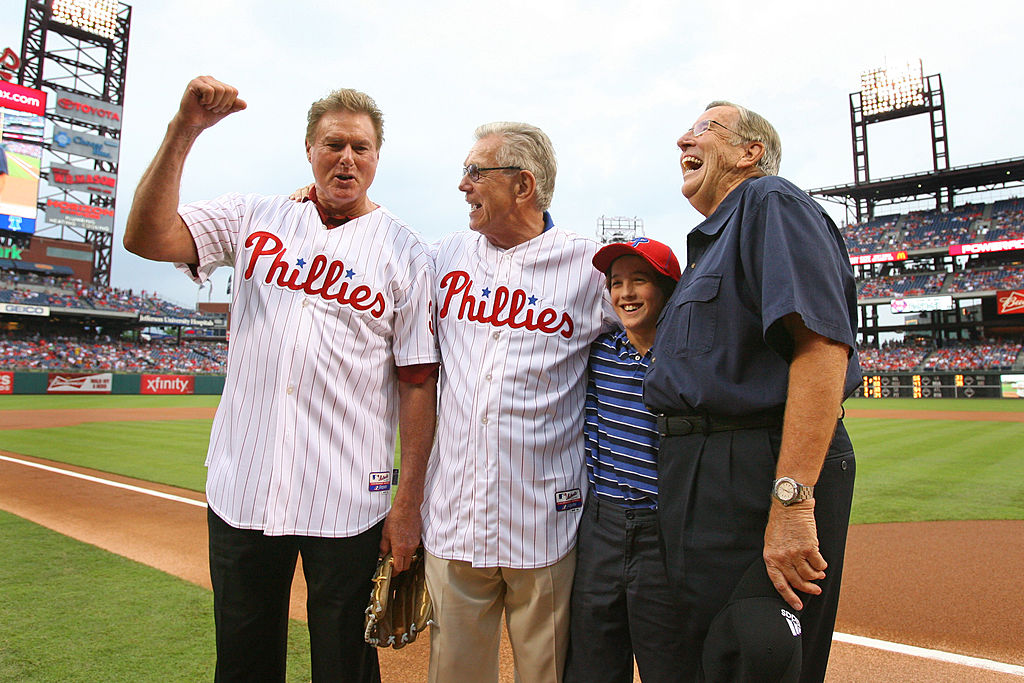 As much as there is to enjoy about this book, there is one little quibble I have with the Introduction. Kashatus writes in his introduction that McCarver helped mold Carlton when they were with the Cardinals before coming to Philadelphia. True enough. But McCarver gets only partial credit for Carlton's remarkable 1972 season. Kashatus writes that he was traded in July 1972 to the Expos, but it was actually June 14 when McCarver went to Montreal in exchange for John Bateman. McCarver therefore only caught 45 games for the Phils in 1972, as compared to 82 for Bateman and 16 by Irish Mike Ryan. Kashatus gets it right on page 107 when he writes: "Fortunately the McCarver trade did not disrupt Carlton's impressive performance that season. Bateman quickly adapted to the left-hander's fast- working tempo."
Although the linkage between Carlton and McCarver was something special, it would have been nice to at least mention the other two famous linkages in the modern era. One was between Chooch and Roy Halladay. Although they had no prior history before the Phillies, and Chooch caught most games rather than being a personal catcher, Roy made a point of saying how in synch he was with Chooch in contrast to any of his previous battery mates. Another famous coupling though comparatively brief preceded Carlton and McCarver and that was between Jim Bunning and Gus Triandos. The two were acquired in a trade with the Tigers in 1963, the Phillies looking for strong RHP to complement LHP Chris Short, and a right handed catcher with some pop to platoon with left-handed Clay Dalrymple. Both couples, Bunning/Triandos and Halladay/Chooch, are in the annals of Phillies history because of their prefect games together.